Legrand specializes in electrical and digital infrastructures, offering a comprehensive range of products and systems used in commercial, residential and industrial buildings. Since opening its South African subsidiary in 1985 it has developed an extensive distribution network across southern Africa. The subsidiary represents the Legrand Group's business interests in South Africa, Botswana, Malawi, Namibia, Zambia, Zimbabwe, Lesotho and Swaziland.
The group employs some 36 000 people and realises over 5 billion EUR turnover. Legrand is established in over 90 countries, and its products are distributed in almost 180. Over 80% of sales are generated outside of France. Altogether 68% of its sales come from products that rank first or second in their markets, and it holds leading positions in such countries as France, Italy and the United States—Legrand's #1 country by sales. Together its expertise, the scope of its offering, its international presence and the power of its brands make Legrand a worldwide benchmark.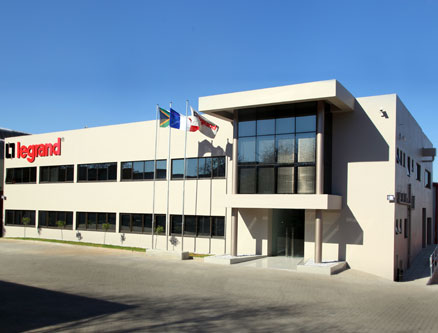 Legrand's development is driven by a strategy of ongoing innovation and targeted, bolt-on acquisitions of small and mid-sized companies that complement its activities. At the same time, social and technological megatrends—aging populations, environmental awareness, the Internet of Things and more—offer major growth opportunities. Convinced in particular that new technologies offer scope for increasing the value-in-use of its products, in 2015 Legrand launched the Eliot program, aimed at accelerating the development of its offering of connected solutions with enhanced value-in-use.
Legrand's offer consists of seven main product categories:
User interface (switches, sockets and more)
Power distribution (distribution panels, circuit breakers and more)
Building systems (lighting control, security systems and more)
Cable management (trunking, floor boxes and more)
Digital infrastructures (enclosures, RJ45 sockets and more)
UPS (Uninterruptible Power Supply devices)
Installation components (tubes, ducts, extensions and more)
The Company benefits from the Group's unceasing research and has an edge on product design, selection, cost efficiency, safety and reliability of equipment. Legrand is determined to extend its operations further and continue to provide products that are manufactured to IEC and any other locally required standards.
To ensure a full service to the market, Legrand is committed to work closely and efficiently with investors, architects, consultants, quantity surveyors, contractors and distributors of electrical equipment.
Legrand provides excellent technical advice, on-going training programs and sales support.

CONTACT NUMBERSTel:
+27 11 444 7971
Tel:+27 21 271 0339
Fax:+27 11 448 2318